2014 DC Free Summer Meals Program: Important Dates
Check the OSSE website as dates may change or new dates may be added.
Thursday, February 20, 2014: D.C. Free Summer Meals Application release date.
Monday, May 19, 2014: Deadline to enroll to become a summer meal sponsor.
Wednesday, February 19, 2014: D.C. Free Summer Meals Information Session.
Tuesday, March 25, 2014: D.C. Free Summer Meals Information Session - for new participants only.
Thursday, April 10, 2014: Food Service Management Requirements/ Healthy Schools Act Supplemental Session - for current/previous participants only
Wednesday, April 30, 2014: Summer Food Service Program Mandatory Annual Training - for current and new Sponsoring organizations only
---
The D.C. Free Summer Meals Program provides nutritious meals and snacks to low-income children (ages 18 and under) during June, July, and August. Meals and snacks are served at schools, community programs, faith-based programs, and recreation centers across the city. The summer food program is paid for by federal funds, which are available for every child who is eligible.
Hunger doesn't take a vacation when school lets out. The D.C. Free Summer Meals Program fills the nutrition gap for the low-income children who depend on free and reduced-price school lunch and breakfast during the school year. The summer meals program helps families stretch their food budgets throughout the summer months. And it strengthens recreation and enrichment programs by providing a source of federal funding for nutritious food.
What's happening with summer food in D.C.:
D.C. Summer Meals PSA Wins Award
Bright Screen Productions received a Silver Peer Award, at the ITCA-DC Peer Awards on November 19, 2011, for the D.C. Free Summer Meals PSA. Bright Screen Productions, in collaboration with D.C. Hunger Solutions and the D.C. Department of Parks and Recreation, created this PSA featuring Washington Redskin, London Fletcher, to help inform the District's residents about the D.C. Free Summer Meals program. The Peer Awards recognize outstanding films created in the Washington, D.C. metropolitan area. View the PSA below.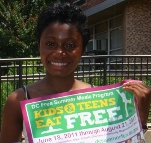 D.C. Hunger Solutions' Summer Meal Outreach Efforts Highlighted in USDA/FNS E-Updates.
For the first-ever "Washington DC Summer Food Service Program Outreach Day," D.C. Hunger Solutions asked for volunteers to help distribute posters, fliers, and cards with summer meal site information all over the city. More... (pdf)
Number 1 ranking nationally
D.C. Free Summer Meals has been ranked the best summer food program in the country for six consecutive years for reaching the highest percentage of low-income children! D.C. Hunger Solutions is working to make the program even better. We are encouraging the District agency to make sure that enough sites are serving meals throughout the full length of summer vacation, helping sites use the "Summer Food Standards of Excellence" to rate the quality of their meal programs, and working with meal sites and program sponsors to improve the nutritional quality of the food served.
D.C. Hunger Solutions can help by:
assisting your organization in applying to be a Free Summer Meals site;
providing training and assistance on how to operate the program;
helping improve food quality at your sites;
providing information on conducting a level of excellence analysis for your site.
Help us spread the word:
Visit the D.C. Free Summer Meals page at the D.C. Superintendent of Education Web site for a listing of summer meal sites.
Contact us if your organization would be interested in becoming a D.C. Free Summer Meals site, particularly if you are planning to offer a youth program.