Farmers' Markets...
…are an important source of fresh, nutritious food for urban residents and a key asset of many vital and active communities within the city.
Many low-income neighborhoods in the District of Columbia have few, if any, food retail outlets that sell fresh produce. Farmers' markets have potential to reach low-income consumers in "food deserts" and improve their nutrition. Farmers' markets have low start-up costs and flexible models, which enable them to be responsive to the needs of a community. They can provide low-income consumers with: a venue for using federal nutrition program benefits to purchase fresh produce; nutrition education and ideas on preparing foods; and a place to build community.
Learn about using federal nutrition benefits at D.C. farmers' markets.
While there is great opportunity, a number of factors must be addressed before low-income people can come to rely on farmers' markets for affordable produce. Just as there is a dearth of grocery stores in low-income neighborhoods, few farmers' markets operate in these neighborhoods; a small number of the city's farmers' markets are located east of the Anacostia River in Wards 7 and 8. To locate D.C. farmers' markets, visit dcfarmersmarkets.org.
Farmers' Market Collaborative:
In 2006, D.C. Hunger Solutions reconvened the Farmers' Market Collaborative – composed of market managers, advocates, and city agency staff – to support farmers' markets and address barriers to bringing more fresh produce into underserved neighborhoods. In 2006, just one of the city's farmers market accepted SNAP/Food Stamps; in the summer of 2012, 40 markets benefitted city residents and 24 accepted SNAP/Food Stamps.
Spread the word!
Use these posters, brochures and flyers to tell your community about the markets near you that accept SNAP/Food Stamps and Get Fresh checks.
You can also:
Join the Farmers' Market Collaborative by emailing Catherine Benvie of your interest.
Encourage city officials to adopt and implement the Farmers' Market Collaborative's policy priorities.
Learn about Get Fresh, the District's Farmers' Market Nutrition Program for mothers and children and seniors.
Post this flyer on how to use food stamps to buy produce at select District farmers' markets.
Volunteer at a farmers' market - Use the DC Food Finder to find a farmers' market nearest you.
What's happening with farmers' markets in D.C.?
Spring 2013:
Follow this link to the D.C. Farmers' Market Collaborative comments (pdf) on the Fourth Notice of Proposed Vending Regulations from the Department of Consumer and Regulatory Affairs.
Fall 2012:
The D.C. Farmers Market Collaborative ran a series of bus shelter ads (pdf) in 30 locations across the city to promote the 13 farmers' market locations providing matching incentive programs for SNAP/Food Stamp, WIC and Senior FMNP users. The space was donated by the D.C. Department of Transportation and the ad was run in partnership with the D.C. Economic Security Administration.
Bonus Bucks: The D.C. Farmers Market Collaborative successfully advocated for the inclusion of $50,000 in the District's FY13 budget for a pilot "D.C. Bonus Bucks" program at D.C. farmers markets. Read a blog post chronicling our efforts. The Collaborative is working with the relevant city agencies to implement the program for 2013.
October 2011:
D.C. Hunger Solutions congratulates the three D.C. farmers' markets that received 2011 Farmers' Market Promotion Program grants from the U.S. Department of Agriculture. More...
Farmers' Markets What's Happening Archives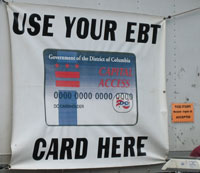 How D.C. Hunger Solutions can help:
Provide guidance to farmers' markets so they can accept federal nutrition benefits – food stamps, WIC, and Farmers' Market Nutrition Program.
Collaborate with farmers' markets and city officials to streamline city processes for markets and establish cohesive city policies regulating farmers' markets.
Promote farmers' markets to low-income residents as a source of fresh, healthy fruits and vegetables.
Farmers' Market Collaborative Members:
Adams Morgan Market
AYA Community Markets
Brookland Farmers' Market
Columbia Heights Community Marketplace
D.C. Department of Health
D.C. Greens (Glover Park/Burleith Farmer's Market)
D.C. WIC Farmers' Market Nutrition Program
D.C. Hunger Solutions
Freshfarm Markets (Dupont Circle, Foggy Bottom, H Street, Health and Human Services, Penn Quarter, The White House)
Georgetown Farmers' Market in Rose Park (sponsored by friends of Rose Park)
Healthy Solutions / D.C. Produce Co-op
Brookland Farmers' Market
Kaiser Permanente
Markets & More (14th& U and Bloomingdale Farmers' Markets)
The Marketplace at WoodRidge
Mount Pleasant Farmers' Market
NOMA Farmers' Market
New Morning Farm Markets
Open Air Farmers' Market (RFK)
PCDC Edgewood Farmers Market
Riverside/Heritage Park
Summit Health Institute for Research and Education, Inc. (SHIRE)
University of the District of Columbia
Ward 8 Farmers' Market at the ARC and St. E's