Food Stamp Challenge Diary
October 2012
Welcome to the D.C. Food Stamp Challenge Diary. We will be featuring stories, reflections, and videos from those participating in the Food Stamp Challenge, and also of those who benefit from the SNAP/Food Stamp program here in D.C. Also, weíll have reflections from D.C. Hunger Solutions staff on the helpful role SNAP is playing in the District and how, together, we can advocate for this important program.
Watch video diaries:
---
Tuesday, October 16
Existing on a $30/week budget (Washington Informer, 10/16/12)
DC Council Resolution Condemns Food Stamp Cuts (DCist, 10/16/12)
Take Action TODAY for SNAP (Food Stamps)
The DC Food Stamp Challenge ended yesterday. Over 50 D.C. residents took the Challenge and lived on $30 per week, the average Food Stamp allotment for one person in D.C.
Join Challenge participants today to speak out in support of SNAP and ask your friends in other states to do the same.
Forward the letter below to 5 friends (who live in any state--VA, MD, or beyond) who care about ending hunger. Ask them to contact their member of Congress to protect SNAP and stop the proposed billions in SNAP cuts in the federal Farm Bill.
Dear Friend,
This past week participants in the DC Food Stamp Challenge lived on $30 per week for food, the average Food Stamp (SNAP) allotment for one person in Washington, D.C. This was hard, indeed, though much easier because participants knew it would only last a week. Their experiences shed light for me on how important it is to protect the Supplemental Nutrition Assistance Program (SNAP, formerly known as Food Stamps) so that more people don't go hungry in our country, and how important it is to ask our elected officials to support and protect SNAP against the billions of dollars in proposed cuts currently on the table in the Farm Bill.
My D.C. Representative, Eleanor Holmes Norton is a defender of SNAP but does not have a vote in Congress. So I am asking my friends who live outside D.C. to help me out. If you care about ending hunger, please take a moment to stand up for SNAP and call your Representative. Itís easy to do:
1) Call the Congressional Switchboard: 202-224-3121 and ask to be connected to your Representativeís Office. (Follow this link if you need help locating your Representative.)
2) Ask your representative to protect SNAP, not cut benefits to our nationís low-income families. If he or she hasnít already, ask them to sign on to H.R 760 (pdf), a resolution that opposes the cuts to SNAP in the House version of the Farm Bill. Follow this link to a current list of supporters.
Hereís a sample script for your call:
I am a registered voter in [name of your state] calling to protest the massive cuts to SNAP in the 2012 Farm Bill - $4 billion in the Senate and $16 billion in the House. These devastating cuts to SNAP benefits would mean millions of households would have less money for nutritious food. SNAP is absolutely vital in our community for low-income families and businesses alike. It helps thousands of residents put food on the table, and every $1 spent in SNAP benefits generates $1.79 in local economic activity.
[Choose either: Thank you for signing OR Please sign] on to House Resolution 760, which opposes the cuts to SNAP in the House Version of the Farm Bill. I ask you to work for a Farm Bill that strengthens and protects SNAP. Thank you.
Food Stamp Challenge Activist is Feeling Effects of Meager Diet (DCist, 10/15/12)
Why the Food Stamp Challenge Matters - Catholic Charities DC
---
Monday, October 15
Nicky Goren of Washington Area Womenís Foundation
Antonio Madison, EITC Program Manager, Capital Area Asset Builders
I think I might need more experience with food shopping and consumption. The food that I purchased was nearly gone by day 4 of the challenge. I have to say this was a very educational and informative experience for me, as someone that has never thought about the number of people living within this type of budget weekly. There is a lot I have taken from this challenge that will stay with me for time to come.
Shopping List (Safeway)
Burrito 25 oz 3.19
Maseca Corn Flour 3.49
Kraft Cheddar 3.99
Chicken Honey Roast Cuts 5.99
Perdue Chicken Whole 8.66
Chicken Wings 4.34
Total 29.66
Community Family Life Services chronicles their SNAP experience on their Blog
Anita Wahi, Anti Hunger Program Associate, MD Hunger Solutions
For all the talk about Food Stamps these days, there truly isnít much understanding of the lives of the millions of Americans who need help buying food. I believe access to food is a basic human right, so it continues to astonish me every time I do Food Stamp outreach how many people in the US simply donít have enough money to eat. Helping people sign up for Food Stamps is my job at Maryland Hunger Solutions and, as easy as it sounds, it is HARD. I need to understand how the application process works in every county where I work, why two people making the same amount of money will have different outcomes on their applications, and how to advocate for linguistic and other minorities to get the same quality of service as other people. But whatís harder than doing all that is being the person on the other side of the table who is actually applying for Food Stamps.
DCHS invited MDHS earlier this year to an outreach event at a church in Northeast DC, which is when I realized that people needing Food Stamps in MD faced almost the exact same challenges as their counterparts in DC. While I filled out applications for married couples, single mothers, and non-English speakers living in MD, I heard similar stories from the table next to mine, where DCHS was working to fill out Food Stamp applications for DC residents. Later, when talking with DCHS, I realized that Food Stamp applicants in MD and DC face almost the same challenges, from linguistic discrimination to having to take time off work to complete interviews. It is doubly and even triply difficult to receive Food Stamps, considering all the hurdles one must jump for just $120/month in food. Nevertheless, a lot of people in DC and MD have no idea what itís like to go through this.
Thatís why the Food Stamp Challenges that DCHS and MDHS are hosting is such a great idea. The Challenges give people who have never received Food Stamps a way to understand just a part of the struggle that Food Stamp recipients experience.
Anita Wahi will be presenting on outreach strategies at the second annual Fighting hunger in Maryland Conference, Tuesday, October 16th.
Saturday, October 13
Fox 5 News catches up with Mary Cheh on Day 4 of the Challenge
---
Friday, October 12
National School Lunch Week and D.C. Growing Healthy Schools Week
Itís Day Four of the Food Stamp Challenge. Fifty D.C. residents have pledged to live on only $30 in groceries for one week, the average SNAP/Food Stamp allotment per week for District residents. A goal of the Challenge is to raise awareness about hunger and the importance of the Supplemental Nutrition Assistance Program (SNAP) in connecting more than 135,000 D.C. residents to nutrition. Despite the Districtís excellent track record in connecting people to SNAP/Food Stamps, the program cannot end hunger alone. Creating a hunger-free community in the District of Columbia will require a combination of approaches to overcome barriers and create self-sustaining connections between city residents and nutritious food.
Access to nutritious, healthy food is essential to helping children learn, grow, and thrive. Participation in school nutrition programs, such as breakfast, lunch, and supper is a critical, proven way to reduce hunger and improve wellness among school-age children. In fact, school meals may be the most effective tool for combating obesity in poor children. Breakfast, in particular, improves childrenís health, and school breakfast has proven benefits for childrenís learning. And the D.C. Healthy Schools Act is ensuring that more students can access school meals and is improving those meals by requiring more fruits, vegetables, and whole grains.
Next week, October 15th-20th, is National School Lunch week. Schools across the country are celebrating the positive changes that have been made in school lunch programs with exciting programs and plans. In D.C., students not only have healthier school meals they also have an opportunity to develop the skills needed to make healthy food choices by participating in school garden and farm-to-school programs. Schools across the city will be celebrating local food and school gardens with chef demos, cafeteria taste tests, farm field trips, farmer visits, garden workshops, and much more next week during the Districtís very own Growing Healthy Schools Week.
Join us and be a part of Growing Healthy Schools Week. Visit the D.C. Healthy Schools Act website to learn about District efforts to combat obesity, prevent hunger, and improve nutrition. Also, visit the Growing Healthy Schools Week website and sign up to volunteer during the week.
Sharing their stories:
Kristi Mathews, Grassroots Advocacy Coordinator of the DC Fair Budget Coalition
Nicky Goren, President of Washington Area Women's Foundation
Nicole Newman, Associate at Defeat Poverty D.C.
As I thought about the SNAP Challenge and what I was learning, one thing came to mind: convenience.
My job typically requires me to be out of the office. This week because we are hosting a poverty simulation on Saturday, I scaled back my meeting schedule to make sure we were adequately prepared. I was excited to be a part of the food stamps challenge, but I knew that this week would be hard. The first clue was that I forgot to go grocery shopping prior to the start of the week (Oops).
This challenge has highlighted for me the way the ďluxury of convenienceĒ plays out in my own life. Not having to plan a meal, not knowing what youíre going to eat or think twice about it is a luxury those living on SNAP benefits donít have. Some days when I know I will be gone most of the day I plan not to take my lunch and usually will grab something in between meetings because itís easier than walking around with a bag of pre-prepared food. Its usually simple, I rotate between ROTI, CHOPT and Potbellyís. My day goes on and I eat, never once considering it to be more than that. Not being able to buy prepared food and having to think more closely about what I am eating has been humbling.
Food is something you donít think about until you donít have it. If I get bored with one place or one dish, I try another. If I want meat tonight or I am meeting friends for dinner, I do it. Itís a part of my life but I donít obsess over it like I have this week.
When Iím hungry I eat. For many residents this is not the case and although it is a basic thing it has a high impact. On Tuesday, I didnít have lunch and I noticed my level of concentration start to diminish as the day wore on. As a young professional I am surrounded by food, my office provides coffee, I go to breakfast meeting and lunch meetings and happy hours and if that doesnít work I have the option of buying something quick. This luxury is something I am learning to not take for granted.
This experience has made me acutely aware of the need to maintain SNAP for DC residents because SNAP provides a vital resource for families who need one of the most basic things there is: food. It has also reminded me just how lucky I am to have options.
Meleena Bowers
When my friend Heather Hodges posted on Facebook that she would be participating in the Food Stamp Challenge based in DC, I knew I had to join in. I figured this walk-a-mile in someone elseís shoes program would give me a greater understanding of poverty and would cause me to examine my own spending habits. I am based in New York City and although a single New Yorker may be allotted as much as $50 a week in food stamps, I decided to stick to the original $30 budget. My rationale was that a single person whose annual income might slightly exceed the $14,160 Food Stamp eligibility (that breaks down to $1,180 a month or $272 a week) likely would still struggle to put food on the table. A weekly food budget of $30 a week is less than $5 a day, which sounds like a statistic thrown around for a developing nation, not the United States of America!
As an attempt to raise awareness Iíve been mentioning the Food Stamp Challenge every chance I get. Iíve spoken to grocery store cashiers, co-workers, friends of Facebook, and family members about the challenge. Interestingly, the reactions I have received from people have varied based on geography. Those based in the suburbs and who are often feeding large families, put my budget to shame, while most people living in urban centers thought I was insane and that it couldnít be done. My own motherís reaction to my experiment was a chuckle followed by ďthis should be interesting.Ē However, having been raised by two parents who survived the great depression, my mom offered some great money saving tips like egg salad sandwiches for lunch. This is also more or less her budget, but then again my mom has access to cheap food from places like Wal-Mart.
I consider myself a frugal shopper. I rarely ever indulge in take-out, I usually have coffee at home, Iím not hung up on name brands, and I pack my lunch for work. I usually only buy things on sale and stock up on staples like a hoarder, that is, as much as my limited storage space in Manhattan allows. I also make two big meals throughout the week in a slow cooker (my favorite and most useful kitchen item). Eating this way saves time and money and I know what Iím putting in my body. However, my downfall is organic meats. I also buy organic milk. Although I knew that at $6 a gallon, Iíd be saying goodbye to organic milk and likely meat of any type, my goal was to maintain a healthy standard of living for the coming week.
I only purchased what was absolutely critical for the week. I stocked up on staples like eggs, bread, rice, and legumes. I also wanted to incorporate fruits and vegetables as well as I know all too well from my university days that cheap eats often means a heavily starched based diet so I purchased two bags of frozen veggies, one bag of fresh baby carrots, and bananas. I also added a loaf of whole wheat bread, two plantains, one onion, two cans of tomatoes, and can of green chilies and one quart of non-organic milk, which I considered to be my ďluxuryĒ item. The total was $24.
What Iíve learned so far from my shopping expeditions is how quickly certain things become major luxuries e.g., meats, milk, in fact, anything to drink that isnít tap water, fresh vegetables, and most fresh fruits. There is also no room for spontaneous purchases. Iíve also given up snacking and any dessert item. My diet has been nutritious, however, Iíve grown bored with the variety. To try to stave off boredom I spent time trying to devise ways to repurpose the same ingredients, e.g., turning cooked red beans into red bean soup, and black beans into black bean oat burgers, and black bean oat burgers into a vegetarian rice and bean burrito bowl. Although I havenít been hungry per se, I have had pregnancy like cravings for things like chocolate and cheese. Iíve also definitely socialized less. Additionally, Iíve devoted more time to planning my grocery list, more time to creatively using spices to mask the lack of fresh ingredients that recipes may call for, and an inordinate amount of time to scouring the food aisles looking for the cheapest, yet relatively healthy items. It has been an eye opening challenge.
Quameice Harris, Assistant to the Director, DC Department of Human Services
Pre-Challenge (Oct 1-8)

1. Why did you choose to participate in the challenge? I chose to participate in this challenge because I really wanted to understand our constituents and what they have to go through in order to survive. How can you truly sympathize with what you donít understand?
2. How are you planning to meet the challenge? My goal is to purchase $30 dollars worth of groceries and find a way to make it last.
3. How difficult do you think it will be? For me, this will be a life changing moment. I eat out at least two (2) out of three (3) meals every day. My family laughs at me when I turn on the stove. I have never been a fan of cooking.
4. What challenges do you foresee? My concern is staying within my budget. If someone asks me if I want Chipotle, I have to say NO! I am the restaurant Queen! Who really still uses the kitchen?
5. How much do you typically spend on food in a given week? Due to my restaurant habit and the groceries I do purchase to ensure that my family eats well-balanced meals, I usually spend about $300 dollars a week between my family and myself. When, if ever; do you ever find yourself hungry during your typical week? I can honestly say that I have never truly been hungry. If I want something, I purchase it or someone else buys it for me.
Participant Prompts Day 1 (Tuesday, October 9)
I purchased my groceries from Giant which is my usual store of choice and they accept SNAP/ EBT cards. Once I decided my store and knew they accepted my form of payment, in my head, I was singing ďCanít nothing stop me now, Canít nothing hold me back while doing the running man.Ē All I have to do is pick up my items and start my week. I had my store of choice picked and a plan of action. My plan of action was to purchase my food, cook and prepare my breakfast, lunch and dinner for the entire week.
I want to start off by saying that I have not gone grocery shopping since the invention of Peapod. Oh and I rarely turn on my stove. My family eats food from local restaurants for two of the three meals a day. So for this challenge, I was going to summons my inner June Cleaver and cook my meals for the week to allow me to maximize my thirty dollar allowance.
I arrived at Giant ready to show this challenge what I could do. I discovered a few things on my first day of the challenge:
1. I should have pre planned my meals. When going to the grocery store on a budget, you have to have a plan of action. I did not have a plan of action;
2. You have to do research to figure out the best way to spend your dollar; and
3. How about clip a coupon (I thought that this is just something people did on TLC). Does the newspaper still come with coupons? I would not know because I read the paper online.
My shopping trip was horrible. I spent a lot of time in the grocery store, because I did not have a plan of action. I did not create a meal plan, so I started off just shopping. By the second aisle of the store, I was over budget, so I spent the next 15 minutes restocking groceries. I re-grouped and decided that I would eat salad, sandwiches, etcÖThis was still not a detailed enough plan. Here is what I bought:
2 bags of salad - $3.69 (Buy 1 get 1 Free)
Margarine - $1.00 (6 sticks)
Cheddar Cheese - $2.79
Milk - $2.59 (a small milk)
Salad Dressing - $5.00 (2 for $5)
2 Lipton Rice - $2.00
Quaker Oats- $2.50
2 Lunch Meat - $5.00
Bread - $2.00
eggs - $2.00
Total Spent: $28.57
Total Left in Pocket: $1.43
After leaving Giant, my heart was heavy. First, what hearty meals will I be making with this random grocery list. I have to live off sandwiches, salad, rice, and oatmeal, for a treat. Who eats like this? Is this the option people are left with to survive!
Once I purchased my groceries, I was not left with enough money to even treat myself to an item off the dollar meal menu at McDonaldís. If you do, you will be left with $.35, which wonít even get you a pack of gum.
Meal Log:
Breakfast - Oatmeal
Lunch - Turkey Sandwich
Dinner - Salad
I felt hungry all day because what I usually ate for a snack was put back because of the lack of funds.
A little tact, please.
Sheena Simpson, AmeriCorps VISTA, DC Hunger Solutions
So when I went to one of the grocery stores for the Challenge I asked the cashier if they take SNAP/Food Stamps, also known as the EBT card, out of sheer curiosity. Because I used cash, I couldnít see if EBT was an option on the machine. The cashier wasnít familiar with these benefits and she screamed to another co-worker, ďHey, do we take food stamps?!?!?Ē. I was so embarrassed and I could feel my face get warm. Even though Iím not on this benefit, I still felt embarrassed that she screamed that and several customers in line heard her. I think sensitivity training is necessary for cashiers because an overwhelming majority of people who receive this benefit arenít proud of it; they do it out of necessity. Possibly putting them in a position where they would be further embarrassed about their situation is not cool at all.
Thursday, October 11
Joe Weedon, Defeat Poverty DC
Day 2 (Wednesday) of the Food Stamp Challenge started out the same as the first, with a bowl of the kidís favorite Special K cereal for each of us. Once again, the kids had their school lunch while I had a peanut butter sandwich. Dinner for us all Ė the kids and myself Ė consisted of some red pepper and cheese tortillas. Everyone seemed satisfied, though we probably could have used a few more veggies with our meal for the second straight day.
The biggest challenge for our family after just two days has been my slow withdrawal from my caffeine addiction. I have skipped my morning cup of coffee and have made an effort to avoid brewing coffee at the office. Itís caused a few headaches and a little grumpiness in the mornings.
On day 3, I decided to skip my breakfast as I noticed the box of cereal was starting to look a little scarce, and we need it to last the rest of the week. This happened to be the first of several signs that living on just $30 a week, per person was going to be tough. Lunchtime came early when a growling stomach compelled me to eat my peanut butter sandwich a little earlier than normal. By mid-afternoon, I was confronted with my first real challenge and forced to bend the rules of the Challenge a bit.
The Challenge of eating a little less each day, for me, is complicated by the fact that Iím diabetic. While I was confident Iíd be able to adjust my medication to allow me to participate in the challenge for the week, itís becoming clear that to get the types and the amounts of different foods that I need to maintain my health that I may require me to eat a little more Ė and prevent us from making it through the whole week.
Late this afternoon, my blood sugar began to drop. I normally have a small snack with me for such situations and was forced to indulge myself with some snacks that Iíd purchased and stashed away in the office prior to purchasing food for the challenge.
For dinner, we had some leftover pasta, with peppers and some pasta sauce Ė most of the ingredients were left over from the previous two nights. I made sure that the kids had a little extra pasta since Iíd had my late afternoon snack.
Ariana Quinones Miranda, Office of the Deputy Mayor for Health and Human Services
Stuck to the meal plan so far, but itís rough. I didnít put coffee on my grocery list so I am missing it! I had a morning meeting on Wednesday and I have to admit, I poured myself a half a cup of coffee. Every day this week, I have been at meetings and events where food was offered. Since being on the Food Stamp Challenge, I am much more cognizant of the options and perks I have that I normally take for granted.
Tiffani Nichole Johnson
So, as I was scrolling through my daily tweets I noticed that Councilmember Mary Cheh mentioned she would be participating in the DC Food Stamp Challenge. I clicked on the link and eagerly signed up for the challenge. As a disability rights advocate many of my clients receive SNAP benefits, are low-income and struggle to make ends meet let alone put food on the table. As an advocate I felt it was important not just to sympathize with their plight but to truly understand what they are going through on a daily basis. And yes, after this week I may go back to being gluttonous; hopefully I won't, but I will have learned a valuable lesson that I can pass on to my daughter.
When I initially signed up I had no idea how hard it would be to survive on $30 a week. I had to change my whole way of shopping, the brands I used, and wound up standing at the register and embarassingly asking the teller to take items off because I couldn't afford them. The individuals behind me were less than thrilled since this involved having a manager paged which took several minutes. After I left the store with my 1 bag of groceries ( I usually have 5 or 6) I realized just how much I buy and wondered how much was actually eaten as opposed to wasted or given away. (I will defintely carry that lesson with me the next time I go shopping.)
As I sit writing this with my stomach growling for the 20th time today, quite loudly I might add, I am amazed at how hard this has been for me. No sodas. Living on $1 frozen pastas, bologna sandwiches and lunchables. The amount of sodium, MSG, etc. I have injested in 3 days is ridiculous. How is anyone supposed to eat healthy on $4.30 a day! It would take a lot of getting used to for me. I mean, I am not the healthiest eater, but still, I know when I need to eat my fruits and veggies. Two items that had to be returned because I just couldn't afford them.
As I go into the weekend, I don't know how much longer my willpower will hold out. For me it will mean nothing to go out and buy my favorite foods because I can afford to do so. For individuals on SNAP benefits, that choice is not so easy to make. Splurging today could mean a daughter, son, etc. goes hungry tomorrow. No one should have to live like that and make those kinds of choices.
Food Stamp Challenge Shows Hardship of Eating on a Tiny Budget (DCist, 10/11/12)
Who is on SNAP in D.C.?
Jessica Luna, Program Associate, DC Hunger Solutions
Throughout this week, Iíll be sharing some statistics outlining who benefits from SNAP in D.C. and how the population has changed over time. In 2011, an average of 134,845 D.C. residents participated in SNAP each month. Thatís about 1 in 5 district residents. To put it another way, imagine that every fifth person you walk past on the street is benefiting from SNAP - who needs it to put food on the table. Thatís a lot of people.
Since 2009, SNAP participation has increased dramatically in D.C. A large portion of SNAPís growth is due to the recession, marked by unemployment and underemployment. SNAP is a program designed to grow when times are toughóbecause it is a federal entitlement, there are no waiting lists for the program, or caps on participation. As District residents saw hours cut or jobs disappearing in the hardest days of the recession, SNAP was there to meet the need. Participation rose from 101,285 in January 2009 to 140,515 in January 2012, a sharp increase of 38.9 percent. With the D.C. Councilís passage of the Food Stamp Expansion Act of 2009, D.C.ís Department of Human Services (DHS) adopted two policies to help more individuals access SNAP, and allowed many to gain a more robust benefit level.
In terms of reaching eligible participants, D.C. ranks well among states; with 86 percent of eligibles participating, ranking us eighth among the 50 states (for comparison, nationally about 72 percent of eligible people participate in SNAP). D.Cís DHS has been recognized by USDA for improving SNAP program access and issuing benefits in a timely manner.
However, the story changes when you look at the population of District residents who are working and whose incomes make them eligible for SNAP. In fact, D.C. ranks second to last among states for working poor participation; just 41 percent of the eligible working poor are enrolled in SNAP in D.C. Only California enrolls fewer working families in SNAP. In a post later this week, weíll talk about why that is, and how D.C Hunger Solutions is working with a key partner organization to help change that statistic. And tomorrow, weíll explore just who is on SNAP by ward, age, and income, and what populations and stories are behind these broad numbers.
---
Wednesday, October 10
Jennifer Lockwood-Shabat, Vice-President, Washington Area Womenís Foundation
After a fairly uneventful first day of the Food Stamp Challenge, I woke up a little hungry on day two. Yesterday started off with a banana and water for breakfast. Thatís actually more than I normally have since Iím not a breakfast person, but I figured I should get something into my system to help me get through the day, especially since I didnít have my morning caffeine!
For lunch I had a very small salad that consisted of lettuce and chickpeas. I find that Iím rationing my food a bitóeyeballing my lettuce to try to determine just how many salads and of what size I can make between now and October 15th. I have two tomatoes, but I didnít want to use an entire tomato on the first day, so I opted to save it for later.
I cooked brown rice and a veggie stir fry of broccoli, carrots, and green beans for dinner. I also added a small salad (this time with tomatoes). Iíll admit I did have a glass of wine with dinner! This was not part of my budget, and in fact you cannot use food stamps to purchase alcohol.
What was most interesting about the first day was the conversation that the staff of The Womenís Foundation engaged in during our staff meeting. Four of us are undertaking the challengeótwo of us on our own, and the other two with their families.
One staff member felt hungry earlier in the morning and had already eaten half of her lunch, despite the fact that she normally doesnít eat breakfast. She thought there was a psychological aspect to it because her day hadnít started any differently from a normal day for her.
Another staff member was excited about the meals she planned because she was cooking food from her native country of Ghana. She didnít feel as if she was making a huge sacrifice Ė the meals felt like comfort food to her Ė although she was very aware of how expensive certain things were when she shopped (like eggs for example), and she was hungry later in the day.
Another staff member felt it was much easier to do the challenge with multiple people because she had more money to spend ($30 per person) and could buy certain things in bulk. I was jealous of the eight pounds of apples she bought for $8!
Each of us also reflected on the ďluxuriesĒ we had as we did our shopping, the first being transportation to easily get us to the grocery store at whatever time of the day of night we needed to go. Additionally, the four of us live in Northern Virginia where we have access to a multitude of grocery stores and markets. One staff person shopped around for the best deals and as a result ended up shopping at several different stores.
It was a stark reminder that many living in our region do not have these ďluxuries.Ē According to new data from DC Kids Count one-third of DC neighborhood clusters do not have a grocery store. Of these neighborhoods, nearly half have child poverty rates above 50 percent. So where do these families shop, and what are they buying?
---
Tuesday, October 9
Alex Ashbrook of DC Hunger Solutions in Washington, D.C., says Food Stamp Challenge is 'not going to be easy' (WUSA9, 10/9/12)
Follow staff from Defeat Poverty DC and Washington Area Womenís Foundation as they chronicle the challenge experience on their blogs.
Watch Challenge video diaries from Fr. John of Catholic Charities and Lauren Biel of DC Greens.
Heather Hodges, Neighborhood Legal Services Program
I did the challenge because as Pro Bono Counsel for Neighborhood Legal Services Program and a board member of the Women's Bar Association, I spend a great deal of time in Wards 7 and 8. I want to draw attention to poverty, hunger and lack of access to healthy food for women and children in those neighborhoods. I grew up one of seven kids in a working class family, so my strategy was to initially spend only 1/2 of my money, because I know all too well what it's like to run out of money before the next check comes and not have anything set aside for an emergency. I had a few other ground rules. I wanted to shop in a store that was typical of what you see in underserved communities: small stores with limited selections of fresh vegetables and meats. I also am primarily vegetarian, so I wanted to abide by my typical dietary restrictions as that would be similar to what someone who was on a particular diet for health reasons might face. Last, I wanted to walk/ride public transportation to one store so I would not know the convenience of driving to various stores to comparison shop. I started the Challenge on Sunday and already have learned some things. First, coupons are not a big help because the items they are for are already too expensive. Instead, managers' specials were the key! Second, many of the shoppers in the store I selected were seniors, immigrants and students. For the first time I noted how much time they spent studying prices and how small their orders were in the end. Last, since prepared and semi-prepared foods are out, I spend much more time planning menus and cooking. After just two and a half days, I am already starting to feel distracting hunger pains at work. It doesn't take long, sadly. Most rewarding is that as I have blogged about the Challenge on Facebook with a friend in NYC, Meleena Bowers, who is doing the Challenge with me. It has provoked a great conversation among our friends about hunger, food prices and consumerism generally. I have also been able to flex my cooking skills and my best tip to all is avocados are a great, flexible ingredient. I combine with bananas to make a spread for toast, you can use in most salads and sandwiches and it has tremendous nutritional value. Tonight I will be making huevos rancheros with salsa, guacamole and "chips" made from wheat toast. My mother and grandmothers are nurses and I have them to thank for my cooking skills, thriftiness and nutritional savvy. It underscores how important it is to also have funding to do community outreach on healthy eating especially with children and young adults. I'll report back if I exceed my $15 budget and have to go back to the store.
Jacci Jordan, AARP DC
With a recent AARP Foundation study showing that nearly 9 million older adults face the risk of hunger Ė meaning they are forced to skip meals or buy poor quality food - I knew in my heart I should give the Food Challenge a try. However, when thinking about my schedule and lifestyle I continued to put off signing up.
Well here I am at the end of Day 1 and I am thinking what did I get myself into? Fortunately for me with my husband being a veteran, I can shop at the military commissary. This saves me an average of 30 percent from outside stores so my list of items may seem a little better than most.
But as I look at the small number of items purchased, I realize I should have purchased more food instead of looking for my usual items in cheaper brands. And yes, the commissary accepts SNAP. Actually a 2011 report shows food stamp purchases at military commissaries have nearly tripled during the last four years.
So already I can tell you this is tough. But, Day 1 is now over. There is however one important fact. Today I have a choice. Millions of people were just like me and then IT happened. Whatever IT is, loss of a job, illness, disability, so many things happen to make it so many don't have a choice.
Sheena Simpson, Americorps Vista, DC Hunger Solutions
So I went shopping today AFTER breakfast which means I can't count my first meal of the day in the Challenge. Even though I consider myself to be a good bargain shopper, I don't think the $60 worth of groceries I bought for my husband and I will last us throughout the whole week. If it does, I know our meals won't be as well-balanced. I will say, I'm happy that I was able to budget for two. Having $60 instead of $30 allowed a bit more flexibility and option for variety. Usually, I buy a lot of fruits and veggies because I also use those as snacks between meals. I was only able to get bananas, apples and avocados today. I focused on beans, cereal, dairy and grains in hopes that it will be more filling and stretch further. Unlike others, I shopped at 3 grocery stores. I didn't mind doing this as I customarily shop at 2 to 3 grocery stores any given week. At max I use half a gallon of gas. While I'm able to store hop with my car in order to find the best deals, I know not everyone receiving SNAP has that luxury. I also focused on buying items that were on sale. I found a few good sales today. I even received a $1.00 off coupon for ground turkey! While it was nice to buy items on sale, you do so at the expense of passing up things you may really want. The one item that I bought that I could've probably gone without was Guava wafer cookies, but hey, everyone's gotta have a little fun.
Breakfast Day 1
(Does not count--no groceries purchased yet.)
Lunch Day 1
Spaghetti with ground turkey and vodka sauce topped with a little mexican cheese.
Small caesar salad
Water
Dinner Day 1
Jerk Chicken breast
Spinach and tomato salad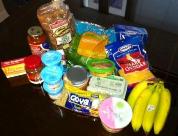 Alex Ashbrook, Director, DC Hunger Solutions
I am taking the Food Stamp Challenge to draw attention to the one in eight families that struggle with hunger in D.C and the importance of the food stamp program. With my $30 food stamp allotment, I was able to purchase the following for a week:
1 can tuna (sale)
1 package spaghetti
1 packet dry lentils
1 container cottage cheese
2 shredded cheddar (buy one, get one free)
4 yogurts (sale)
Whole wheat bread (sale)
6 eggs
1 turkey bologna
1 bag spinach
5 bananas
1 humus (sale)
1 jar tomato sauce
1 instant coffee (sale)
Even though I took advantage of sales, thatís not much food for a week and itís a very different list than whatís in my typical shopping basket. And things could get a lot worse for people who need food stamps to put food on the table.
Both the Senate and House Agriculture Committee versions of the Farm Bill contain cuts to SNAP. The Senate plan for the Farm Bill includes a cut of more than $4 billion over 10 years to the program, achieved largely by reducing SNAP benefits for an estimated 500,000 households by $90/month. The House Agriculture Committee bill would make these same cuts plus end benefits totally for a minimum of 1.8 million people, cutting the program by $16 billion.
Jessica Luna, Program Associate, D.C. Hunger Solutions
Why a Food Stamp Challenge? Starting today, dozens of D.C. residents are starting the Food Stamp Challenge. Theyíve pledged to live on only $30/week for food, the average SNAP/Food Stamp allotment per week for District residents. The Food Research and Action Center, our parent organization, helps coordinate SNAP challenges across the country to raise awareness of the programís importance at the local level, and mobilize advocates to fight cuts to funding at the federal level. Elected officials, mayors, and even chefs (most recently, Mario Batali) have tried to live on a food stamp budget.
This isnít the first time local advocates have come together in support of SNAP in the nationís capital. In 2007, D.C. Hunger Solutions partnered with Eleanor Holmes Norton and then council chairman Grey for the Districtís first SNAP challenge. The experience was enlightening for both of them. Last year, we joined with Holmes Norton, other members of Congress and faith leaders for the "Fighting Poverty with Faith" SNAP challenge, an annual, interfaith poverty mobilization. D.C. Hunger Solutions attended the kickoff event, and facilitated SNAP recipients to accompany Holmes Norton on the kickoff Shopping trip at the Capitol Hill Safeway.
We chose to host a Challenge this fall for several reasons. First, as a platform to raise awareness of the cuts to SNAP in the Farm Bill that would in effect repeal the Districtís Food Stamp Expansion Act of 2009, and reduce access to SNAP and lower benefit levels for needy families. Second, as an opportunity to underscore to those of us who are fortunate to have plenty on our tables and who never have to worry about where our next meal comes from, a small glimpse into the daily struggles facing the tens of thousands of district SNAP residents who rely on this program. Third, to raise dialogue about how poverty (especially child poverty) and hunger are pervasive in a city, and explore ways that coalitions can come together to solve these problems.
We are conducting the challenge the same week as our sister organization Maryland Hunger Solutions to elevate the issue of hunger and poverty in the greater metro DC area and make the connection that hunger is everywhere - in every congressional district across the country, and here in our own backyard, the nationís capital.
---
Monday, October 8
D.C. Leaders take on Food Stamp Challenge (ABC 7)
D.C. Councilmember Mary Cheh Attempting Food Stamp Challenge (Fox 5)
Ariana QuiŮones-Miranda, Chief of Staff, Office of the Deputy Mayor for Health and Human Services
Wow, this is definitely a challenge! Did my usual Safeway shopping trip for the week but I left the store with a lot less than what I usually buy. My 11-year-old daughter and I are participating so we had $60 to spend on the weekís groceries and we spent $51.58. We have a bit of money left over; however, we do not have a full weekís worth of food and we will be going back for another shopping trip. I think we got about 5 daysí worth of food. Not looking forward to day 6 and 7! The first thing to go out the window was ďconvenience food.Ē We had to minimize the individually packaged fruit cups, granola bars, and juices that usually go in my daughterís lunch box. Skipped organic options. Chose cheapest over favorite flavor. It was frustrating to not have enough money to buy a larger size item even though it was a better deal than the smaller size.
My menu:
Breakfast Ė whole grain bagel spread with hummus = .81
Lunch Ė frozen pasta lunch (found a brand for $1.00 each) with some tuna added = $1.69
Snack Ė salad with fresh strawberries added = $1.19
Dinner Ė frozen pizza and side of steamed broccoli with garlic = $1.49
Total = $5.18/day (over budget by .90)
Big lesson learned Ė always check your receipt! We bought six 20 oz bottles of Vitamin Water because the sign said they were on sale Ė normally $1.59 each, but pay only .99 for six or more. Well for some reason, we paid full price and I didnít notice until we got home. I overpaid by $3.54 in total and I need that money for day 6 and 7. I will be going back to Safeway for a refund!
Dr. John Thompson, Executive Director of the DC Office on Aging, shares his purchases for the week.
Brieana Jordan, Family Support Specialist at Catholic Charities DC
I decided to take the Food Stamp Challenge because a majority of the clients I meet are receiving food stamps. May of them worry that they are not receiving enough. Every day I spend money on Starbucks, lunch and something to snack on. I am interested in experiencing what clients and people all over DC go through. Can you eat healthy for $30 a week? How do you fight the hunger when you want a snack? I plan to buy food from the grocery store and use that for lunch. I may make something like spaghetti or lasagna. Those dishes last a while and are good for lunch and dinner. However, I am so used to a variety of food items so this may be hard.
I know for a fact this will be difficult because I am a heavy eater. I LOVE food. I enjoy reading menus, watching food commercials and ordering out. I love to try and make new foods. For a week, I will not be able to do this. This is going to be like food rehab for me. I see many challenges. I am going to have to wake up my self control. My family has their own schedules, and will be eating their own meals. The smell of chicken, pizza, Chinese, French fries, anything, will trigger my hunger. I am going to try my best to fight it. I designed a budget to where I spend $50 a week. $5 a day for coffee, and about $5 for lunch. I find myself hungry every minute of the day. Seriously!
---
Thursday, October 4
Sheena Simpson, Anti-Hunger AmeriCorps VISTA, D.C. Hunger Solutions
I decided to participate in the SNAP Challenge because although I am aware of some of the circumstances surrounding life on SNAP/Food Stamps, I felt like participating in the Challenge would bring these issues to the forefront of my consciousness as I continue to serve populations in need of this essential program. Even though my family received food stamps for a brief period in my childhood, itís easy to detach yourself as time passes on. Currently, Iím an AmeriCorps VISTA so I already have some insight as to just how little minimum wage pay stretches. Iím fortunate enough to have a husband that can supplement my income, but if it werenít for him, I donít know WHAT Iíd do. Itís no wonder why people often work 2 or 3 jobs. While I cook and consume a lot of home cooked meals, I splurge by eating lunch out one to two times a week. I imagine in order to make my SNAP budget work ($60) I will have to be strategic, make a list and only eat home cooked meals. This puts things into perspective because if youíre working long hours to make ends meet, who has the time and energy to cook breakfast, lunch and dinner everyday? I think it will be an eye opening experience.
Wednesday, October 3
If you have signed up to participate in the Challenge, we invite you to share your experience throughout the week through the diary or through Facebook and Twitter. Use these ideas (pdf) to get your creative juices flowing. Email your post/video (or links to the post on your own blog, if you have one) to Jessica at jluna@dchunger.org and it will be posted to this diary the following day.