Beverley Wheeler, Director
bwheeler@dchunger.org
LaMonika Jones, Anti-Hunger Program Analyst, Child Nutrition
ljones@dchunger.org
Raynice Day, Anti-Hunger Associate
rday@dchunger.org
Martha Assefa, Anti-Hunger Associate
massefa@dchunger.org
---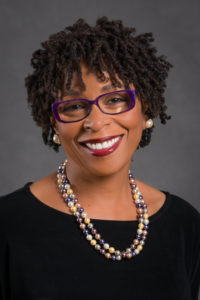 Beverley Wheeler
Beverley joined the Food Research & Action Center (FRAC) in 2015 as the director of D.C. Hunger Solutions (DCHS). In this role, she is responsible for leading the efforts to improve public policies to end hunger, reduce poverty, promote nutrition, and increase the availability of healthy, affordable food in low-income areas; maximize participation in all federal nutrition programs (SNAP, school meals, early childhood nutrition, WIC, and summer meals); and educate the public about both the stark reality of hunger's existence in the nation's capital and the real opportunities for effective solutions.
Dr. Wheeler has over 30 years of progressive experience in all phases of public and private sector policy development working in process development, crisis resolution, civic engagement, community/economic development, and planning as well as policy development and implementation. She has 20 years of experience working with the District of Columbia (DC) government and the DC Council at the executive level as Executive Director of the State Board of Education and Neighborhood Action; Chief of Staff to Phil Mendelson; and Special Assistant to three City Administrators. She is the former president and CEO of Center City Public Charter Schools.
She holds a B.S. in social and decision science, an M.S. in management and public policy from Carnegie Mellon University, and a master's and Doctorate in Education from Harvard University.
---
LaMonika joined D.C. Hunger Solutions, an initiative of FRAC in September 2021 as the Anti-Hunger Program Analyst – Child Nutrition Programs. In this role, she is responsible for working to increase participation and improve benefits in the child nutrition programs (WIC; school meals; summer, after school and child care meals) in the District of Columbia through advocacy, research, coalition-building, outreach, technical assistance, public education and program monitoring.
Previously, LaMonika served as the Procurement and Purchasing Compliance Officer with Georgia Dept. of Early Care and Learning working within the Nutrition Services Division providing technical assistance and monitoring oversight for child nutrition program providers participating in Child and Adult Food Care Program and Summer Food Service Program. She also served as a Steering Committee member of the Georgia Farm to Early Care and Education Coalition focusing on the use of local food systems in early child care and K-12.
LaMonika has a B.A. in Political Science and Communication from Oakland University, and a M.Ed. in Urban Teacher Leadership from Georgia State University. She is currently a 2021-2022 Equity Leaders Action Network (ELAN) Fellow working diligently to advance policies, practices, programs, and initiatives that intentionally redress racial marginalization and create racial equity in early childhood systems.
---

Raynice Day
Raynice joined DCHS in October 2020 as an Anti-Hunger Associate. She currently attends Southern New Hampshire University in New Hampshire where she is studying to receive her MBA with a concentration in Public Administration. Raynice previously worked as a Community Engagement Specialist at the Office of Planning, Cities of Service in Washington, D.C.
---

Martha Assefa
Martha joined DCHS in January 2021 as an Anti-Hunger Associate. Martha is passionate about working toward a vision of local, culturally appropriate, accessible food for our community.
---