What is the D.C. Free Summer Meals Program?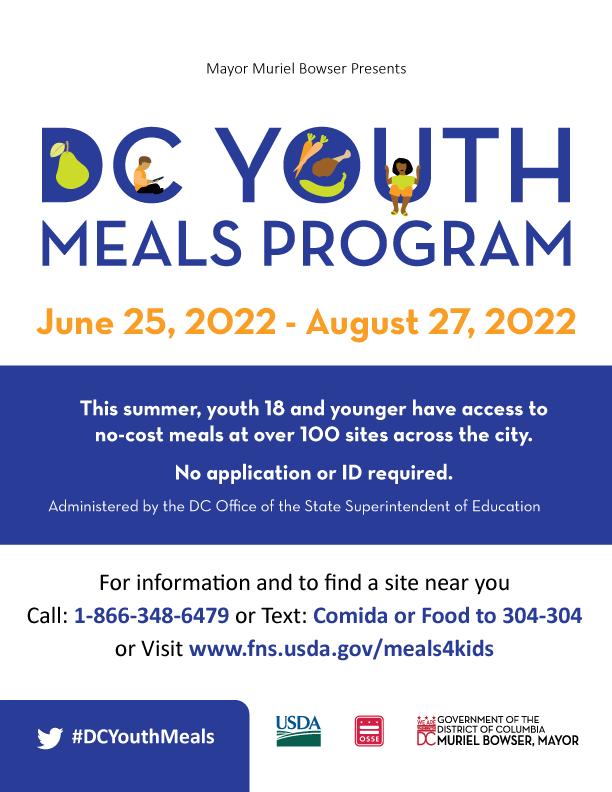 The D.C. Free Summer Meals Program provides healthy meals to children 18 and under across the District of Columbia all summer long through USDA's Summer Food Service Program (SFSP). The program is administered through the Office of the State Superintendent of Education and operated through program sponsors, which operate sites throughout the city.
What is a sponsor?
A sponsor can be any nonprofit group or organization. A sponsor is responsible for the management, administrative tasks, and monitoring of summer meal sites. A sponsor is required to attend OSSE's annual training, locate eligible sites, and provide the staff to supervise and arrange meals to be prepared and delivered.
So, I don't think my organization has the capacity to be a sponsor. Can I still serve meals?
Yes! Many organizations across the District sponsor unaffiliated sites including the Department of Parks and Recreation, Capital Area Food Bank, and DC Central Kitchen.
Okay, I'm ready! How do I become a sponsor/site?
OSSE is hosting information sessions to learn more about how to participate in SFSP as a sponsoring organization or summer meals site. Follow this link to information on dates, times, and registration.
OSSE Sponsor Trainings Opportunities and Save the Dates:
Friday May 13, 2022: ORCHARD Application Due
Tuesday, May 31, 2022: Technical Assistance Session #2 – 10:30am–11:30am
Wednesday, June 15, 2022: DC Youth Meals Program New Sponsor Application Due
The application and supplemental information can be found on OSSE's website.
I still have some questions. Who can I talk to?
Interested sites and sponsors can contact LaMonika at D.C. Hunger Solutions (ljones@dchunger.org; 202-986-2200 ext. 3003) to learn more, get answers to questions on becoming a sponsor and/or site.