D.C. Hunger Solutions Welcomes LaMonika N. Jones as New Director
Media Contact:
Brittani Riddle
briddle@frac.org
202-640-1089, ext. 3039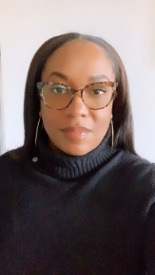 WASHINGTON, September 11, 2023 – D.C. Hunger Solutions (DCHS) today announced that LaMonika N. Jones has been named the new Director at the leading anti-hunger organization working to end hunger in the nation's capital.
Jones joined D.C. Hunger Solutions in 2021 as an anti-hunger program analyst focusingon child nutrition programs.
"We are thrilled to welcome LaMonika as the new Director of D.C. Hunger Solutions," said Luis Guardia, president of the Food Research & Action Center, the parent organization of D.C. Hunger Solutions. "This is a tremendous step forward for our organization and furthering our commitment to addressing food insecurity in D.C. Her knowledge of federal nutrition programs and passion for people will greatly benefit this role."
"I am elated to take the helm of D.C. Hunger Solutions and continue working with local officials, advocates, organizational partners, and the community to continue striving to end hunger in Washington, D.C.," said Jones. "I look forward to serving in this role and continue championing initiatives to ensure residents with low-incomes in Washington, D.C. have access to healthy and affordable food."
Before joining D.C. Hunger Solutions, Jones worked as the Procurement and Purchasing Compliance Officer with the Georgia Department of Early Care and Learning, working within the Nutrition Services Division, providing technical assistance and monitoring oversight for child nutrition program providers participating in the Child and Adult Food Care Program and Summer Food Service Program. She also served as a Steering Committee member of the Georgia Farm to Early Care and Education Coalition, focusing on the use of local food systems in early child care and K-12.
Jones holds a B.A. in Political Science and Communication from Oakland University and a M.Ed. in Urban Teacher Leadership from Georgia State University. She was a 2021-2022 Equity Leaders Action Network (ELAN) Fellow working diligently to advance policies, practices, programs, and initiatives that intentionally redress racial marginalization and create racial equity in early childhood systems. She is also an Advisory Board Member for the National Farm to School Network; Co-Chair of the Fair Budget Coalition Food Access Issue Group; and Co-Chair of FRAC's Racial Equity, Diversity, and Inclusion Committee.
About D.C. Hunger Solutions
D.C. Hunger Solutions, founded in 2002 as an initiative of the Food Research & Action Center (FRAC), works to create a hunger-free community and improve the nutrition, health, economic security, and well-being of low-income people in the District of Columbia. To learn more about D.C. Hunger Solutions, visit www.dchunger.org
About The Food Research & Action Center
The Food Research & Action Center improves the nutrition, health, and well-being of people struggling against poverty-related hunger in the United States through advocacy, partnerships, and by advancing bold and equitable policy solutions. To learn more, visit FRAC.org and follow us on X and on Facebook.