With the D.C. Free Summer Meals Program, Children's Access to Healthy Food Doesn't Have to Take a Vacation
June 27, 2019
By Audrey Scandurro
Check out our communications toolkit to spread the word about the D.C. Free Summer Meals Program!
Think back to your summer days growing up. Maybe they included enjoying barbeques and picnics with family, attending summer camp, or cooling off in a local pool. Now think about what those summer days might have been like if you were experiencing them on an empty stomach. For many families in the District, the summer months are associated with uncertainty and stress about where their next meal will coming from. In the District of Columbia, 11.2 percent of households face food insecurity. Summer is an especially difficult time, as families can no longer access school meals that nourish children during the school year. However, many families don't realize that children and adolescents can still receive meals when school's out.
The D.C. Free Summer Meals Program, funded by the U.S. Department of Agriculture (USDA), helps to fill the summer nutrition gap for low-income children. Through the program, approximately 250 public sites – from recreation and community centers to libraries and schools – serve children nutritious, well-balanced meals at no cost from June through August. Along with bridging the school meal gap, many sites also offer recreational and enrichment activities, helping to stave off summertime weight gain and summer learning loss (or the "summer slide").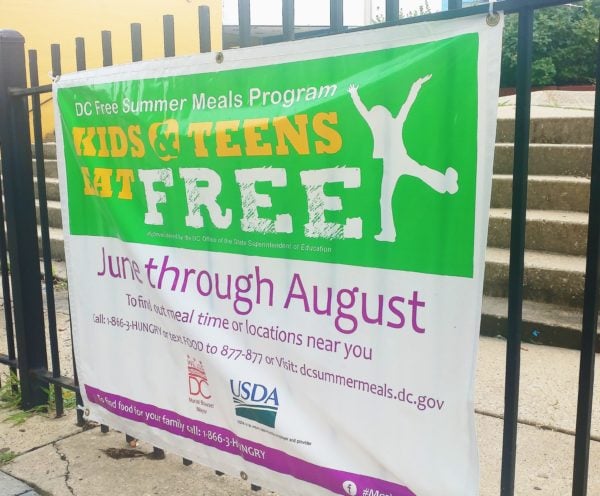 The benefits of providing summer meals are especially apparent to the staff at participating sites. Erik Cullen, the Mobile Market Operations Manager for the Arcadia Center for Sustainable Food & Agriculture, noted that summer nutrition is meaningful for entire communities, not just children:
Being able to offer complete, nutritious meals on site is a great asset for children in the neighborhood, as well as parents that have brought their children to the market. We frequently get asked if we have the lunches both before and after the summer meal distribution period, indicating a definite significance to the kids in the neighborhood. It's great to be able to support this program and the work that D.C. Central Kitchen and D.C. Hunger Solutions are doing in the District.
Stacey Lucas, Volunteer Coordinator for the D.C. Public Library, also emphasized the impact summer meals have on families as well as children:
We try to tailor our activities around nutrition. I think it provides kids an opportunity from a multigenerational perspective. We encourage kids to take the information that they learn back home and share it with their family.
D.C. Hunger Solutions is actively promoting the D.C. Free Summer Meals Program and supporting sponsors and sites to ensure every child in the nation's capital can access nutritious food during summer vacation. And we need your help.
To help spread the word about the D.C. Free Summer Meals Program to more of our neighbors, D.C. Hunger Solutions has created a communications toolkit with sample social media, graphics, and other shareable materials. This summer, join us in making sure every child in the District has a chance to enjoy a hunger-free summer.
Need to find a nearby site participating in the D.C. Free Summer Meals Program? Text "FOOD" or "COMIDA" to 877-877 or visit dcsummermeals.dc.gov.