Hear the Crunch
Thursday, March 5, 2020
Join D.C. Hunger Solutions in making some noise to celebrate the many benefits of the School Breakfast Program – participate in #HeartheCrunch! on March 5, 2020, during National School Breakfast Week.
All you have to do is:
Want to do more? Here are some ideas to engage students, parents, and teachers:
Make sure apples are included on your breakfast menu for March 5, 2020
Take a video of classrooms participating in the apple crunch and post to your school's website and social media (remember to tag #HearTheCrunch @dchunger / @dchungersolutions)
Invite parents to have breakfast with their child and include them in your Hear the D.C. Crunch! celebration of school breakfast
Have teachers incorporate apples and nutrition into their lesson plans. Check out USDA's resources for apple focused nutrition education
While students are enjoying their breakfast, have them color an apple coloring sheet and write about their favorite breakfast items. Coloring sheet available in the Hear the D.C. Crunch Toolkit.
Download flyers, graphics, sample social media language, resources for schools, and more from our Hear the Crunch Toolkit.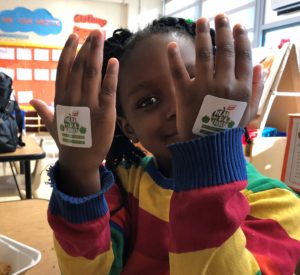 Want some awesome Hear the D.C. Crunch stickers for your event? Request stickers for your school or childcare center here.
Questions? Email Paige Pokorney at ppokorney@dchunger.org.